Last week we celebrated the launch of Guildford Time Bank at our venue!
After other successful Time Bank projects across the Surrey county, it's time for Time Bank to come to Guildford. Time Bank is a free way to use skills to help others, and in return, get help for yourself. A Time Bank is a way for people to help other local people and be rewarded for it, it's like volunteering, but works around your schedule and has no strict commitment guidelines. For every hour of time you give helping someone, you receive one time credit, which you can exchange when you need help from someone else. Anyone can join the Time Bank and exchange their time by gardening, shopping, sewing, DIY, pet sitting, sports buddying, snow clearing or simply having a chat…the list is endless.
The launch of Guildford's Time Bank was a huge success with a great turn out. After talks from members of Voluntary Action South West Surrey (VASWS) who lead Guildford's Time Bank, attendees discussed (over some hot beverages and homemade cake!) the positive impact Time Bank will have on our local community, in improving cohesion with Guildford's public, and bettering the well-being of everyone involved. Lots of people also signed up for the Time Bank, to lend their skills to those in need, in return for help for themselves.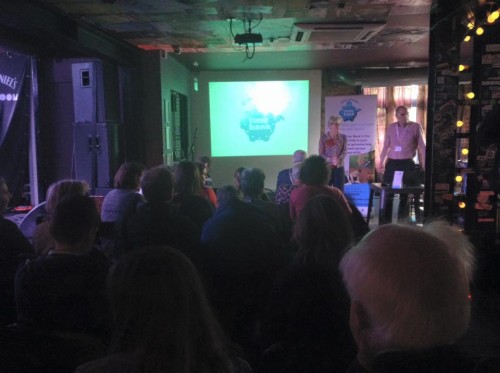 For more information, and to sign up to Time Bank please visit: guildfordtimebank.interests.me