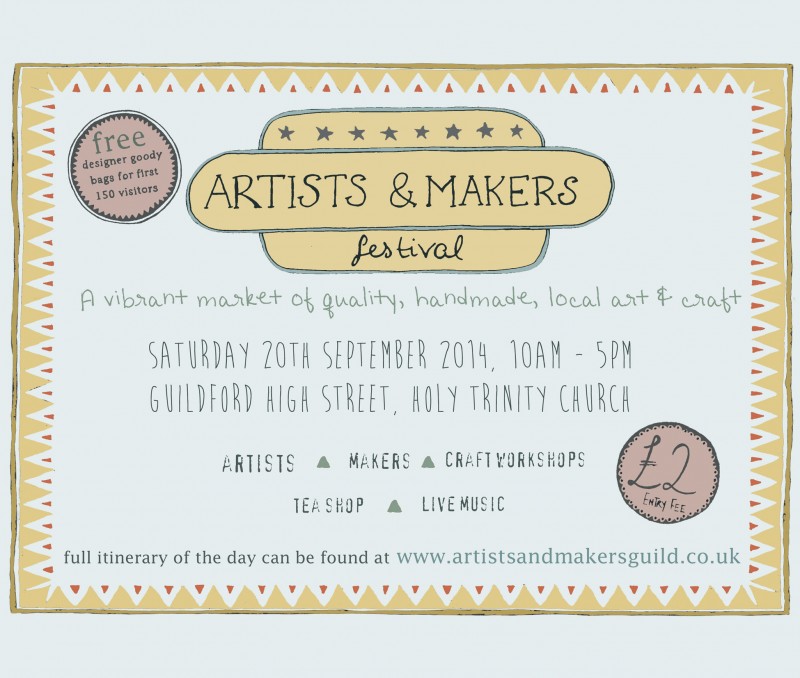 Artists and Makers Festival
Saturday 20th September 2014
10am – 5pm
Holy Trinity Church, Guildford
All Ages // £2 Entry
About The Artists and Makers Guild
The Artists and Makers Guild was born by a chance meeting in Guildford High Street one rainy day, and it's members lamenting that there were very few meeting places in the town that were independent and not a generic clone of every other High Street in the UK. The conversation soon moved on to how great it would be if there was a more grass-roots venue that celebrated the arts and the individual maker, and perhaps where artists could meet and exhange ideas.
So we decided to do something about it. We may not be able to afford the real-estate in this part of the country for a permanent venue, but we can promote some of the extraordinary talent – artists, designers and makers that are working in tucked away workshops and studios all across the South-East and the UK.
More about the Festival
We are kicking off the Artists and Makers Guild with our first ever Artists and Makers Festival at the beautiful Holy Trinity Church right in the centre of Guildford High Street on the 20th September 2014. We will be showcasing a fantastic range of talent with Artists, Designers and Makers from a broad mix of disciplines within the arts. Each exhibitor will be hand-picked for the festival, keeping in mind originality and quality….We are not just another craft fair!!
If you are one of the lucky first 150 people through the door, you will receive one of our free goody bags designed by an up and coming designer. These bags are set to be a real collector's item, so make sure you get there early!
The bags will have some really lovely hand-made items and some vouchers and information about other great events.
There will be craft workshops running throughout the day that you can try, as well as a fantastic Café with delicious home-made food and a selection of drinks. There will also be live music from some of Guidford's up and coming talent.
The Boileroom Stage at A&M Festival
We'll be curating a stage of local acoustic acts to play live throughout the day, as well as a local playlist to showcase some of Guildford's musical talents. We'll be running a stall with local artists merch, so if you do like what you hear you can pick up a CD or two! Our Craft Clubbers will also have some of their wares on display too – full line-up to be announced shortly!